Stuart Weiss
Eagle Eye Director of Alumni Ministry
& Assistant Director of SJI Student Life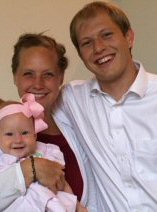 It is my great privilege and honor to serve as both the Eagle Eye Director of Alumni Ministry and the Assistant Student Life Director for the Saint John Institute. In our service to the students at SJI, Maureen and I are excited to open our home and share "not only the Gospel of God, but our very selves" (1 Thess 2:8) with the students and community. SJI is forming future leaders for the New Evangelization who will dare great things for Christ, and we are humbled to be a part of preparing them for that great mission.
As the Eagle Eye Director of Alumni Ministry, I hope by the grace of God, with the help of teammates, volunteers, and mission partners, to serve Jesus and Mary by proclaiming the Gospel to the country and the world! I plan to do to this in part by creating small group communities around the country, and forming "Eagle Eye Missionary Disciples" who will fearlessly proclaim the love of God to a world that so desperately needs Christ.
"Do not be afraid to go out on the streets and into public places, like the first Apostles who preached Christ and the Good News of salvation in the squares of cities, towns and villages. This is no time to be ashamed of the Gospel. It is the time to preach it from the rooftops! Do not be afraid to break out of comfortable and routine modes of living, in order to take up the challenge of making Christ known in the modern "metropolis". It is you who must "go out into the byroads" and invite everyone you meet to the banquet which God has prepared for his people."

-Saint John Paul II, World Youth Day 1993 (emphasis added)
Will you help me to form, unite, and inspire men and women to "go out into the byroads" and proclaim the Gospel by joining our support team?
Gratefully in Christ,
Stuart Weiss
Please make checks out to Saint John Institute
(Include "Stuart Weiss" in the memo) and mail them to:
Saint John Institute
4775 S. Pearl St.
Englewood, CO 80113